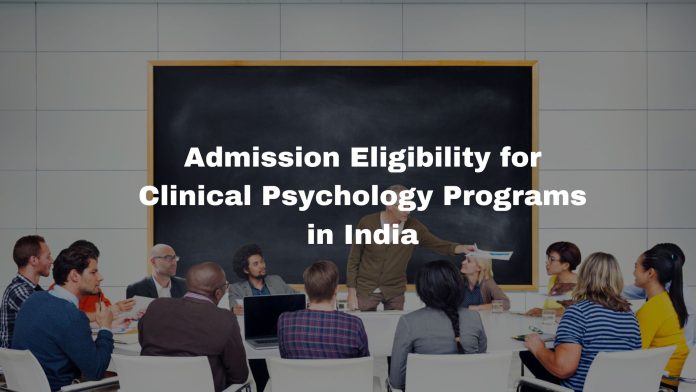 Are you considering pursuing a Master's in Clinical Psychology in India? Aspiring to join one of the clinical psychology colleges in Kolkata? Understanding the admission eligibility criteria for clinical psychology programs is crucial to embark on your academic journey. In this article, we will explore the key requirements and considerations you need to keep in mind when applying for these programs.
1. Educational Qualifications:
Embarking on a Master's in Clinical Psychology in India starts with meeting educational qualifications. Usually, a Bachelor's degree in Psychology or a related field from a recognized university is required. Be aware that universities may have specific coursework and duration requirements.
Certain institutions may consider applicants with non-psychology bachelor's degrees but may ask for extra psychology coursework or prerequisites. So, before applying, carefully check the admission criteria of your chosen colleges to ensure your educational background matches their expectations.
2. Minimum Percentage Requirement:
Another crucial factor to consider is the minimum percentage requirement for undergraduate coursework. Many clinical psychology programs in India stipulate a minimum percentage for your bachelor's degree. While the exact percentage can vary from one institution to another, it is common to see a requirement of 50% or higher.
Keep in mind that some universities may have tougher admission processes, requiring higher percentages. It's vital to check the criteria of your chosen colleges and strive to meet or surpass these standards.
3. Entrance Exams:
Apart from your educational background, numerous clinical psychology programs in India mandate entrance exams for admissions. These exams evaluate your psychology knowledge and readiness for the program's academic challenges.
One such entrance exam is the Post Graduate Entrance Test (PET), conducted by various universities across India. Additionally, some programs may consider scores from national-level entrance exams like the National Eligibility Test (NET) for psychology.
To maximize your chances of success in these exams, it's essential to dedicate sufficient time to study and preparation. Consider enrolling in preparatory courses or using study materials specifically tailored for these tests. Scoring well on these entrance exams can significantly enhance your prospects of admission.
4. Personal Statement and Interviews:
While academic qualifications and entrance exam scores are essential, many institutions also evaluate applicants based on their personal statements and interviews. These components provide a platform for you to demonstrate your passion for clinical psychology, your relevant experiences, and your career aspirations.
Your personal statement should be carefully crafted to convey your dedication to the field and your motivation for pursuing a Master's in Clinical Psychology. Highlight any relevant experiences, such as internships, research projects, or volunteer work, which can showcase your practical knowledge and commitment.
If you are shortlisted, you may be invited for an interview as part of the selection process. During the interview, your enthusiasm for the field and your interpersonal skills will be assessed. Preparing for interviews by practicing common questions and conducting mock interviews can help you present yourself effectively.
5. Letters of Recommendation:
Letters of recommendation play a vital role in your application package. These letters are typically written by professors or professionals who can attest to your academic abilities and potential in the field of clinical psychology. Select recommenders who know you well and can provide strong endorsements.
To ensure strong letters of recommendation, maintain a positive and engaged presence in your undergraduate courses. This will enable your professors to write compelling letters that reflect your dedication and potential. Additionally, make a polite request for recommendations well in advance of application deadlines to give your recommenders ample time to prepare.
6. Prerequisite Courses:
Some clinical psychology programs may require applicants to have completed specific prerequisite courses during their undergraduate studies. These prerequisite courses are typically related to psychology and may include subjects like abnormal psychology, statistics, and research methods.
Before applying, check the program's curriculum requirements. Ensure you've finished any required prerequisite courses or can do so before starting the program. Not meeting these requirements could lead to application rejection.
7. Research Experience:
Having research experience or internships in the field of psychology can be a significant advantage during the admission process. This experience demonstrates your practical knowledge and commitment to the field, making your application more appealing to admissions committees.
Consider seeking research opportunities or internships in psychology-related areas during your undergraduate years. Engaging in research projects, assisting professors, or participating in relevant volunteer work can help you build a strong portfolio and enhance your chances of admission.
8. Language Proficiency:
Non-native English speakers or those with non-English undergraduate instruction may need to demonstrate English language proficiency in their application. Many Indian universities accept standardized test scores like IELTS or TOEFL as proof of proficiency.
To meet language proficiency requirements, consider enrolling in English language courses or preparing for language proficiency tests well in advance of application deadlines. Strong communication skills are essential for success in a clinical psychology program, so demonstrating proficiency in English is crucial.
9. Application Deadlines:
One often overlooked aspect of the admission process is meeting application deadlines. Each institution may have its application timeline, and missing these deadlines can result in your application not being considered. Therefore, it's crucial to stay organized and submit your application materials well ahead of the specified deadlines.
To stay organized, make a checklist for each program you're applying to. Include transcripts, test scores, recommendation letters, and your personal statement. Set reminders to meet application deadlines and submit all materials promptly.
In conclusion, pursuing a Master's in Clinical Psychology in India requires careful planning, dedication, and attention to detail. Meeting the admission eligibility criteria, preparing for entrance exams, and presenting a strong application package are essential steps in securing a spot in the clinical psychology program of your choice.
Make sure to research each institution's unique requirements to ensure you meet all criteria. With determination and thorough preparation, you can embark on your path to becoming a clinical psychologist colleges in Kolkata or anywhere else in India. Clinical psychology offers a rewarding and fulfilling career, and meeting eligibility criteria is your key to success in this field.