It is difficult to master the art of decorating your living space in an aesthetically pleasing and comfortable way. There are certain dos and don'ts to follow to achieve a space's appealing and chic vibe.
Decorating a home may seem simple in theory, but putting it into practice requires time and experience. It's like following a recipe to cook for the first time; it makes sense on paper, but the execution has nuances. Without basic interior design tips, decorating can be like cooking without a recipe, leading to disastrous results. To avoid this, here are some simple Dos and Don'ts to remember when designing your space.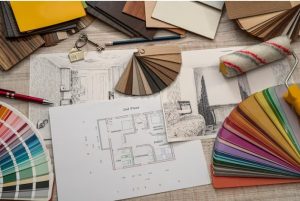 The Dos
Create an Inviting Space with proper furniture placement
It's important to leave enough space around your furniture to make your room more inviting. Proper spacing makes it easier to move around and promotes conversational seating arrangements. Instead of placing furniture against walls, try spacing it away from them to create a more natural flow. There should be 4-8 feet of space between furniture and other elements like walls or cabinets to achieve the perfect conversational grouping in your home interior design.
Be careful when choosing the paint colors
Choosing the perfect paint colours for your home's interior design can either make or break the overall vibe of your space. Mismatched colours can lead to a loss of appeal and negatively impact the aesthetic value of your room. Take the time to choose your paint colours wisely to enhance your space's overall look and feel. If you look forward to building a career in this field, you can learn about this and other important aspects by enrolling in Interior design courses in Mumbai. 
3. Elevate your home design with the right set of pillows
Decorative pillows have become a popular trend in modern interior design, adding an "oomph" factor to any space. Investing in good pillows can significantly enhance the look and feel of your bedroom and living room. Not only should they be functional and supportive, but they should also be plush and soft. They can help break up the blockiness of a room and add a stylish touch.
The Don'ts
Avoid matching everything to add personality to your space
Matching everything in your room can create a monotonous and uninspiring look. Instead of matching furniture and paint colours, try creating a warm and inviting, cohesive relationship. Establishing a connection between elements is important rather than making them identical. Avoid creating an all-white space and opt for elements that add character and charm to your home interior design.
Avoid tiny potted house plants in main areas
Plants can add life and colour to your home interior design, but it's important to use them wisely in your home interior design. Using tiny potted plants in the middle of your living room or bedroom can make the space cluttered and cramped. Instead, opt for larger plants like ferns or statement plants in a pot that can make a bold impact. These concepts are covered in professional interior design courses offered by reputed institutes. You must have good knowledge of similar concepts to ensure your success in this field as a professional. Programs like a pg diploma in interior designcan help you build a promising career.
Conclusion
Being an interior designer requires both passion and creativity. Not everyone can envision the potential of blank space and turn it into a beautiful and functional living area. The art of interior design lies in the ability to blend classic elements with modern trends, creating a balanced and personalized look that suits the needs and lifestyle of the occupants. This exciting combination of vision, creativity, and practicality you can learn through a professional course makes interior design such a rewarding field.
Read More: Changes should made in school curriculum to better education