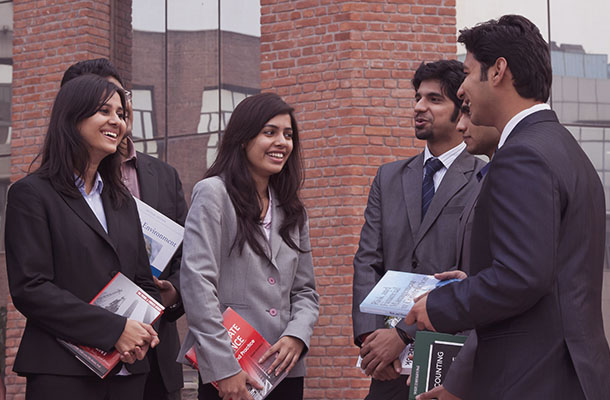 In a developing country, like India, BBA in Real Estate and Urban Infrastructure (REUI) holds major value and offers tremendous learning and employment opportunities. Hence, it is becoming widely popular among students every coming day.
However, many students are concerned whether enrolling in BBA REUI now would be a good choice or not as many colleges are either shutting down or conducting classes online, which might impact the quality of education. Well, worry not as teaching mode does not cause any quality hindrance if the teachers are well-trained and experienced. Also, it would be the prime time to get admission into the BBA REUI program because upskilling yourself will give you an upper hand when the economy recovers and demand highly skilled professionals.
RICS School of Built Environment has opened its campuses for offline classes as well, keeping government safety guidelines in mind. It is following all the sanitization measures to keep its students and staff safe. RICS SBE is optimizing the hybrid teaching model, allowing students to take classes online or offline. In light of adapting to COVID-19 challenges, this college has innovatively restructured its teaching method to provide at most benefits to its students. Hence, you can be reliable to RICS SBE for acquiring the required knowledge and skills.
RICS SBE BBA REUI program imparts a balanced mix of managerial and technical competencies, which is crucial to flourishing in the Indian Real Estate sector. Some of the core learnings of their program are:
Business Development
Corporate Real Estate & Facilities Management
Real Estate Development
Real Estate Valuation and Finance
Real Estate Marketing
Placement Opportunities at RICS SBE
BBA in REUI makes you a perfect fit to work in the real estate and urban infrastructure sectors. It offers you a thorough understanding of Corporate Real Estate & Facilities Management, Real Estate Marketing, Real Estate Valuation & Finance, Real Estate Development, and Business Development, which are crucial for any professional to excel in the industry.
RICS SBE BBA in REUI will shape you to work effectively in multiple firms and domains, which are:
Property consulting firms – brokerage, valuation, investment banking, marketing, etc.
Real estate development firms – sales & marketing, business development, building management, and finance-related job profiles.
Banks & financial institutions – credit heads, in business development, valuation, and technical feasibility roles.
Top corporates – corporate real estate and facilities management departments
Government – estate and property departments
During the campus placement, leading firms, such as CBRE, Tata Housing, Zvesta, Godrej Properties, Cushman & Wakefield, OMAXE, and Black Olive regularly visit RICS SBE to hire from their talent pool.
Even during the tough times of COVID-19, when the economy was facing downtime and most of the people were losing their jobs, RICS SBE managed to get job offers in real estate and urban infrastructure firms for almost 82% of the batch within 3 months of course completion.
Moreover, RICS SBE provides a strong platform to its students so they can interact and network with industry leaders. It strives to ensure that every student finds the best company, matching their requirements and aspirations. This college will act as a strong foundation for your career path.
To summarize, if you are planning to grab the golden emerging opportunities in the real estate and urban infrastructure sector, then pursuing BBA in REUI at this time is the right step. Also, REUI's high-paying job market respects the BBA REUI degree holders from a reputed university, like RICS SBE because it knows that their students gained both theoretical and practical knowledge required to perform well in the sector.